Throughout the year we offer a number of CPD events for counsellors and psychotherapists. Details of these events and how to book will be uploaded here as they become available. Alternatively, you can join our CPD mailing list by emailing us at newdawncounselling@gmail.com to be the first to hear about new events.
CPD is one of the ways that we raise the funds needed to continue working with clients so by coming along to our CPD events you are helping clients access the counselling that they need.
Unless otherwise stated all of our CPD workshops are held at Friendship Hall, High Street, Weston-super-Mare (opposite our premises at Emmanuel Church). The workshops will normally start at 09:30 (with registration from 09:00) and end between 16:00 and 17:30. The price for each workshop is £65 or you can book two of the workshops listed on this page for £115. Current counselling students are eligible for a discounted rate of £45 but please be aware that student places are limited. For more information or to book your place please email Claire at newdawncounselling@gmail.com
Friday 25th October 2019
Childhood Sexual Abuse and its Effects into Adulthood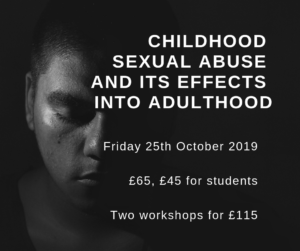 This day explores the issue of childhood sexual abuse and the repercussions frequently experienced by survivors in adulthood.
We will look at indicators of abuse in childhood as well as common issues in adulthood; anger, self-harm, suicidal ideation, dissociation and survival strategies.
Saturday 30th November 2019
Just Beneath the Surface: Using Creative Methods
Just Beneath The Surface: Using Creative Methods to Enhance the Counselling Process presented by Rosie Darlaston
You will explore a range of creative methods with a focus on sand tray work. Sand tray work is a gentle, silent, meditative therapeutic tool that enables your clients to explore ideas on the edge of their thinking. Unconscious thoughts and connections are helpfully made visible in this external 3-D world. Your clients can make connections with lost or forgotten parts of themselves.
You will be given the opportunity to reflect on your responses and to explore how aspects from the course may be used to enhance your counselling practice.
Cancellation Policy
CPD can be cancelled for a 100% refund up to 14 days prior to the event. Any cancellations made with 14 days or less will not be refunded.
Photograph Policy
New Dawn Therapies CIC reserves the right to take photographs before, during and after CPD events. Delegates may or may not be identifiable in photographs. The photographs are being taken for marketing purposes and can be used (but not limited to) on our website and social media channels. If you would prefer that any photographs containing your image are not published, please make that known to a member of New Dawn Therapies CIC staff on the day of the event. We work very hard to make our events as comfortable as possible, and we will respect your request.